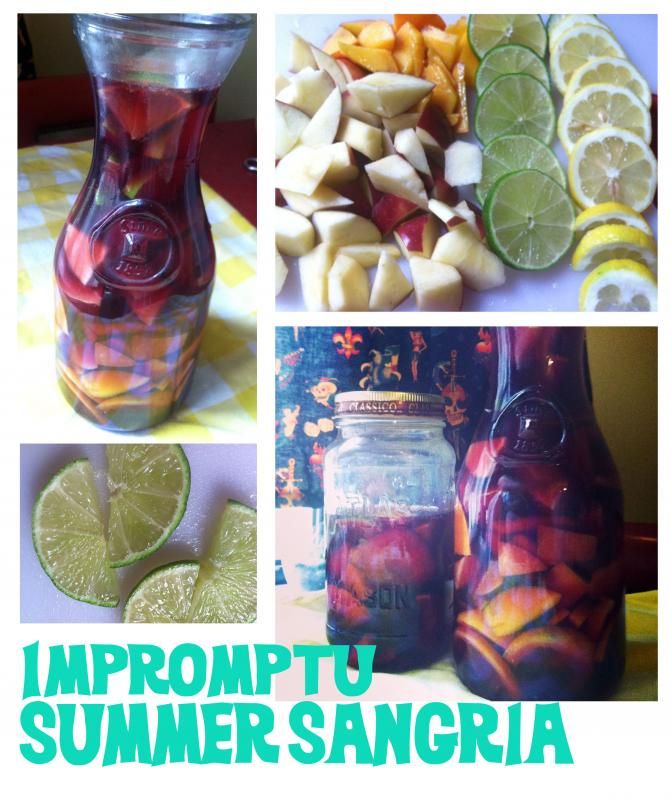 For me, sangria is a summer staple, one that I look forward to enjoying every year as soon as it gets warm outside. It's been 90-100 degrees here in NYC for the past couple of weeks and I honestly can't think of a better way to beat the heat than relaxing up on the roof, fire escape or - if your're really lucky - in a pool or backyard with this easy boozy treat in hand.
Let me start this post off by giving special props to Spain for sharing the gift of sangria with the world. As I'm sure some of you know, the word "Sangria" comes from the spanish word for blood, due to the traditionally red color of the wine used in the punch. Today, Sangria is loved throughout the world and made with all kinds of wine, its also widely available in bars, restaurants. You might even find it in the grocery store aisles but honestly, I strongly advise against buying pre-made from the store - it's weak . Making your own Sangria at home is so much better and it's incredibly easy.
Sangria is a fun drink and one that is incredibly hard to screw up After all, all sangria really is is fruit soaked in wine, with a bit of an added sweetener. This past weekend, I put that to the test by wiping up a batch with absolutely no planning or recipe in mind. First, I sliced up the fruits (lime, apple, plums, lemon and a nectarine I already had in the houset), then I grabbed bottle of red wine and threw everything together in a carafe. It took me all of 4-5 minutes to prepare and I let it sit for a couple of hours in the fridge before serving.
I typically like to add a little soda water or seltzer to the mix, as I feel it rounds out the flavor but its really up to your taste. Some people add sugar, while others prefer the taste of agave or even flavored seltzer - the point is to mix and match flavors to your taste and preference. If it sounds like it would be good, it probably will so just give it a go - there's really no wrong or right way to make it.
Now go on make your own! Below is a round-up of some unique sangria recipes, a little inspiration to get your started - click the image for a link to their respective recipes: